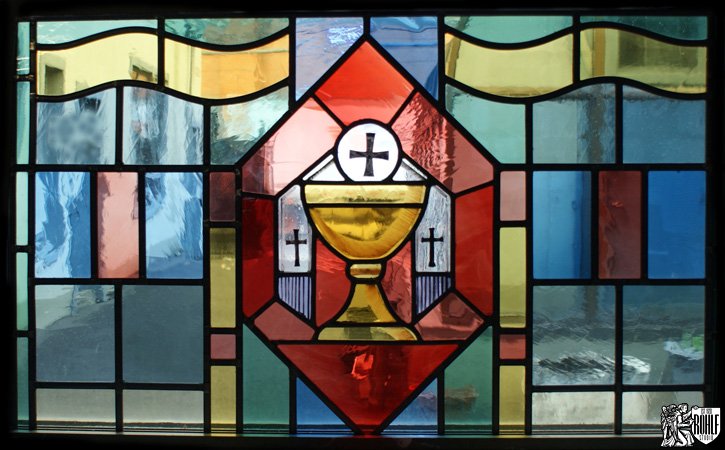 Image source
typical Catholic stained glass window - Sacrament of Communion imagery
When I was little, mass was the worst thing
ever
. Every week was a struggle for my parents to get us to go to mass. We tried every excuse we could think of, tried "oversleeping," just sitting on the floor and refusing to get ready, but-she's-staying-home-sick-why-can't-we-stay-too.
Mass was boring. And I only had to sit through one hour. It felt like the longest hour of the entire week.
Our Catholic church used to have these little activity sheets, yellow for ages 3-6 and green for ages 6-12. They'd have "trace the shape," "find the differences," "solve the maze," "color this picture," etc. I haven't seen those sheets in ages, so I have no idea how I remember the ages. But those sheets definitely helped get us through mass. Especially the mazes, those were my favorite.... :)
So it was with that attitude towards mass (and church meetings in general) that
my conversion story
began.
Now, I love going to church. Notice I said "church" and not "mass." Mass is still not fun, but much more tolerable than it once was. Mass is Catholic church and I would rather not be there but my parents still want me to go. I live in their house, so I follow their rules. Fair enough, I think :)
If
I was Catholic, I
would
enjoy mass, because Jesus Christ is such an important part of my life (before my conversion, I didn't consider religion to be important).
Anywho! So why should church not be boring? Because we should want to go. We should make an effort to pay attention and really understand what is said. We should understand the lessons well enough to summarize them to absent friends. The spiritual part of our lives is the most important part. And eternal life will bring us much more joy than any text, more joy than any Facebook post, more joy than any tweet, more joy than any little green activity sheet. We need to keep thinks in an eternal perspective, and church will never be boring.
Church
isn't
boring. But sometimes our attitudes towards church make it seem that way.
I will gladly sit through an hour of church. I will "endure" two hours with great joy. I'll be ecstatic if I can stay for all three. Why? Am I crazy? I might be, but not for that reason ;) I love church because of the spiritually uplifting messages that I can here there. I love church because I live in an imperfect world, full of Satan's influence, and being surrounded by people who share my beliefs is one of the safest places I can imagine.
<3 Marie-Rose